The traditional insulating silica bricks are usually applied in a thickness of 2-3 layers over the crown. Applying more layers does not increase the thermal efficiency because of the rising thermal conductivity of the insulation with almost no pay-back.
Lubisol Ltd. is offering a much better solution with a more efficient package of monolithic crown insulation. The main advantage is the very low specific weight and high efficiency of the insulation, due to the very low thermal conductivity factor.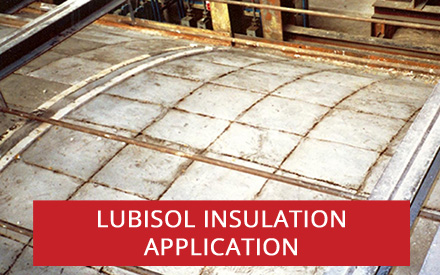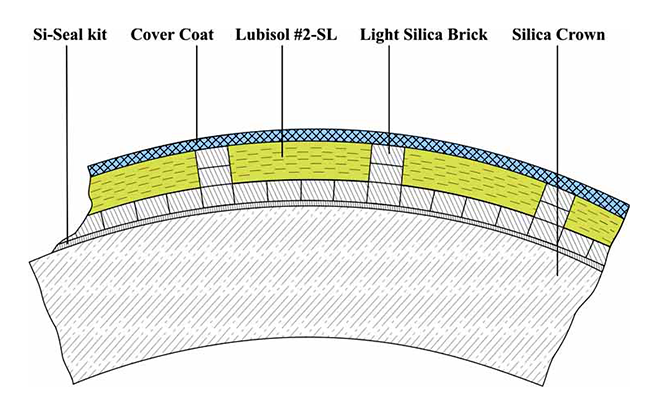 Lubisol 2-SL (Super Light) is very suitable for high temperature thermal insulation of glass furnace crowns and any other type of industrial furnaces, kilns and heating appliances.
The thermal conductivity factor is much lower, compared to that of the light silica bricks.
The specific weight of the Lubisol 2-SL insulation is only 0.3 kg/dm3 with a thermal conductivity 0.05 W/m.K at 20 °C.
back to top
This contributes for reducing the needed thickness of the insulation, so we are able to offer a light and highly efficient crown insulation with a heat losses about 1000 W/m2 at a much lower competitive price. The higher efficiency of the Lubisol crown insulation brings reduction of the total fuel consumption at the cost of about EUR 400 for every 1 m2 crown area per year. *
We are offering the optimum thickness of the insulation for each individual case, taking into account the thickness of the crown, the maximum melting temperature and the positive experience of our company. The heat losses and the temperature distribution are calculated with a specialized software.
* Estimated averages. Can vary, based on different conditions.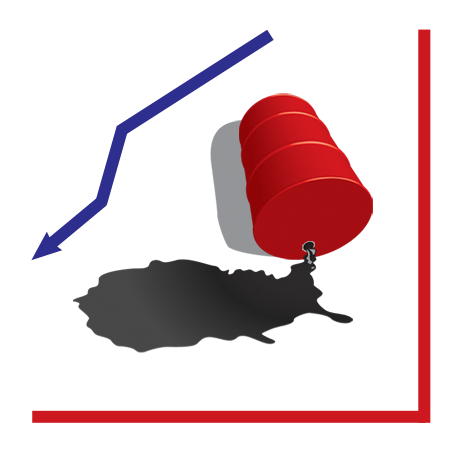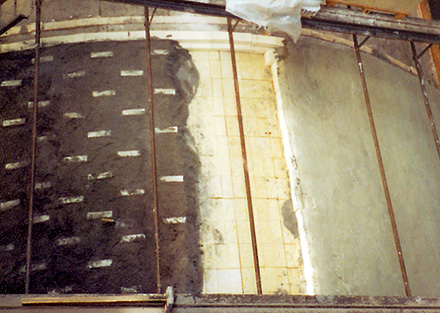 Important part of the Lubisol crown insulation package is the hermetic sealing layer of Lubisol Si-Seal kit applied directly over the whole new silica crown for maximum protection against condensation corrosion and rat-holes.
The advantages of the Lubisol insulation – reduced rat holing and longer service life - are combined with considerable fuel savings, a moderate budget and an early pay back.
The improvement / upgrade of the thermal efficiency of the working furnace is done by applying a layer of Lubisol 2-SL monolithic insulation over the existing light silica bricks.
The application is done easily while the furnace is in operation (hot application). It is applicable on almost all type of oxy-fuel furnace crowns. All additional costs are paid back in less than 1 year.
Lubisol Ltd. is also offering sealing and insulation of fused-cast and mullite crowns, reducing the heat losses and the material costs.
The efficient Lubisol insulation was applied over the melter and regenerator crowns of more than 150 furnaces of leading glass producers like Asahi Glass, Vetropack, Gerresheimer, Sisecam, Hindusthan National Glass, Wiegand Glass, Arc Int., Beatson Clark, Piramal Glass, AGI Glaspac, PQ Europe and others.